Living the Fijian life
Jun 22, 2017
I entered the small travel agent's office, located on a small back street in Bangkok, Thailand, expecting to buy a ticket to New Zealand and from there back to Los Angeles. After a few minutes of research, the lady behind the desk found what I wanted.
"Do you want a stop-over in Fiji and Hawaii on your flight back to Los Angeles at no extra cost?" she asked politely. Within six months I was in paradise.
My perception of Fiji revolved around coral reefs, white sand beaches dotted with palm trees and an atmosphere of relaxation. I discovered all that to be true. However, the real Fiji, the one not described in travel books and characterized by the Fijian people, was my greatest discovery.
Arriving in Fiji, after more than a year of backpacking, all I planned to do was relax on a golden beach for two weeks. Instead, my curiosity to explore led me on a two-month adventure throughout Fiji. After the first day, I decided to get on a local bus that took me to the other side of the main Island, Viti Levu. The bus followed King's Road that circles the Island on the northern part. From there, I caught another bus that — with the help of a ferry — crossed the channel to Ovalau Island. That bus ride was the catalyst for all my adventures in Fiji.
On the bus I met Elina and her daughter Marama, both native Fijians living on Ovalau. To my utter surprise, Elina invited me to come and stay with them at her home. I was taken aback and was not sure how to respond. Elina explained that they never met someone from Israel and that, as Christians, they would be honored to have me as their guest. After much convincing I decided to comply with their generous offer.
We reached the town of Levuka, the old capital of Fiji, in the dark of night. In almost complete darkness we climbed up the hill to a small shack where Elina's daughter Vasuti lived. A tin roof covered two small rooms. Straw mats covered the floors of the main room, mosquito nets dangled from the ceiling and kitchen utensils sat in the corner.The bedroom consisted of two beds and some cabinets. It was a very simple existence, with an outdoors toilet and a nearby stream used for bathing.
This became my home for a week. Apart from Luke, Vasuti, their baby girl and her kitten, Elina, Marama and myself, three other people stayed in this shack. Elina's third daughter Ite and her baby, and Elina's son Roman lived there as well.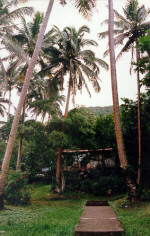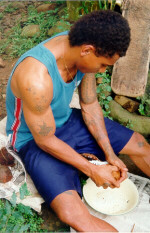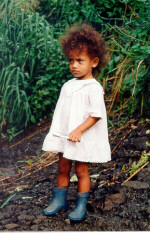 Due to their remarkable hospitality, generosity and friendliness, I immediately became comfortable staying with them. Every day I discovered new aspects of Fijian life through the interaction with my new Fijian family.
Roman taught me some Fijian words and expressions and in exchange I taught him some Hebrew. We went swimming in the warm waters off the coast almost every day.
Luke took me to harvest cassava and coconuts, and taught me how to clean, crack open and then extract the flesh from the coconut. Every evening, we had a meal together and discussed Israel, Fiji and religion. It seemed so natural to live in this fashion that after a short time I forgot that I was a tourist.
During the week, Luke invited me to join him on a hike up a mountain near their home. We set out early on a clear sunny day. Luke led the way with his Fijian machete blazing a trail through thick jungle. The forest was rich in tropical plants, trees and vines. Luke acted as guide, naming the array of flora as we passed by. When we got thirsty, he approached a vine and with two quick swipes of the blade we had cool water flowing down our throats.
After a few hours we reached the peak. The fabulous bird's-eye view of the ocean revealed a coast line marked with coral reefs, valleys of green forests and mountains all around.
On the way back we stopped to swim in a pool of crystal clear water fed by a small waterfall and isolated from civilization. I was in paradise.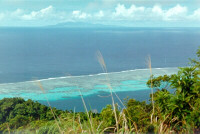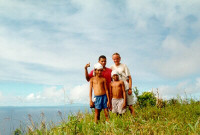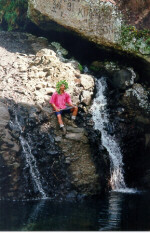 Roman's school held a carnival during that week, so Elina, Marama and I went to see the festivities. It was an intimate and real insight into traditional Fijian culture. The boys were dressed in red sulus (sarongs) wrapped around their waist, banana leaves covered their heads and flower necklaces rested on their chests. The girls wore brown skirts decorated with flowers and other designs, white shirts and leaf bracelets on their wrists.
In a large hall, the kids performed traditional dances and sang in front of the village chief and all the guests. The festivities continued outside on the school's lawn where older kids performed their dances. Stalls with games and food were set up and everyone was celebrating.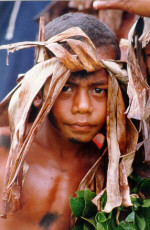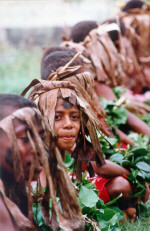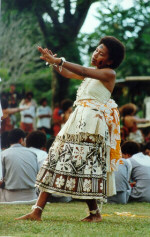 By the end of the week I felt completely a part of the family. Although their hospitality had no limits, I knew that they were working hard to make a living and so I contributed by purchasing food whenever I could. Even though Luke was the Fijian boxing champion and all the family worked, it was hard for them to get by. That alone increased my appreciation for their kindness and generosity.
Before I left, Elina forced me to accept some presents. She gave me traditional Fijian artifacts from her home that included a hand-made mosquito swatter and paintings with Fijian designs. Once again, I was taken aback by her generous and kindhearted personality.
On the ferry leaving Ovalau, a man approached me. He was a friend of Luke. It turned out that Luke sent him to look after me. He wrote me a note to give to his uncle who lived in the city I was headed for, telling him to take care of me.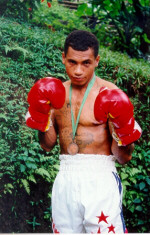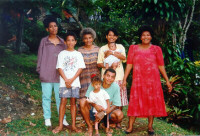 This led to a chain reaction. At all of my destinations I was implored to seek out a relative and stay with them. Consequently, for almost two months I drifted from one family to the next, lived the Fijian way of life and gained incredible insight to their culture, their beliefs and their traditions.
Without a doubt, Fiji is paradise. The beaches are astounding, the corral reefs exquisite and the tropical forest scenery spectacular.
Still, the real beauty of Fiji and what makes it a special place is the warm, kind-hearted personalities of its people.