Trekking rural China -1994
Jun 22, 2017
Stepping off an old bus that cluttered and creaked for six hours, a bitter chill swept through my bones. At almost 12,000 feet, the town of Zhongdian lies near the border of Burma (Myanmar) and Tibet, and is one of the most remote towns in the northern Chinese province, Yunnan.
A few days prior, I shared a room with a German man in his 60s who told me about an amazing trek to the north. He spent many years in that area, traveling and researching alpine vegetation. In his possession were many maps that are almost impossible to obtain; the area was just opened to foreigners. So, as fate would have it, I found myself on a bus heading north in search of another unplanned and unexpected adventure.
From Zhongdian, after buying a pair of gloves and a wool hat, I boarded a bus to Sanpa, the village at the end of the road and the starting point for the trek. The busses in China, especially in the more rural areas, are old, heaving machines that can barely make it up small hills, let alone the mountains of Yunnan. Nevertheless, these monsters transport people across the harsh terrain.
The road to Sanpa is treacherous. The dirt road crosses mountain passes with many turns and deep drop-offs. If the bus ride was any indication to what lay ahead, then I was doomed. People were packed into the bus, sitting three or four on a seat meant for two, with chickens, crates and other scattered bundles.
After a few sharp bends, a stench of vomit filled the bus. It was enough to make me gag for air, but since it was pouring outside the windows were shut. The bus became fogged-up, stench-laden and nauseating.
Well, we all know how Murphy's law works. Presuming the worst was over with was a mistake. My window was wide open, the rain was pouring in and I was getting drenched, but that was preferable to the new aroma that reached my already suffering nostrils. A local woman sitting on a crate in the middle aisle had relieved herself uncontrollably all over the floor. Although I felt sorry for her condition, the stench was almost intolerable.
Reaching Sanpa was definitely a relief. The rain stopped, the bus left and the air was crisp, cool and refreshing. Moreover, the first sight before the village is a remarkable work of nature. Baishuitai, as it is known to the locals, is a majestic formation of clear pools, cream colored calcium deposits and small trickling waterfalls. The backdrop is nothing less than spectacular with its green hills, terraces and cloud-covered mountains. An hour or so passed before I left that tranquil place and made my way down to the village to spend the night.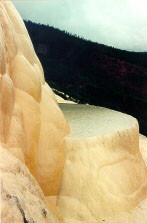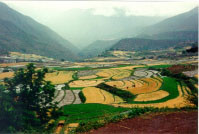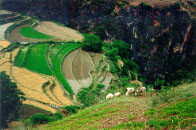 Morning clouds covered the village as dawn broke. Slowly the village became alive, people started making their way to the fields and the clouds dispersed. The area is so mountainous, making farming very difficult, that the whole valley is terraced to perfection. Walking out from Sanpa, I viewed the colorful mosaic of crops encompassing the valley. It was a jigsaw puzzle arranged in perfect symmetry. Row after row of green rice paddies were arranged next to yellow barley sections, shiny flooded fields and green vegetable patches, all of them bordered by mountainous cliffs. It was a beautifully orchestrated work of ingenuity by the local farmers.
My destination for that day was the village of Haba. Although I had a black-and-white copy of a topographic map, there was no scale. Hence, there was no way of knowing the distance from place to place. As it turned out, my feet carried me twenty miles that day.
It was a day I remember with ambivalence. Mud was my main obstacle throughout the day. It was the sort of mud that keeps raising you an inch every step until you lose your balance - a version of platform shoes perhaps. After every few feet there was a need for a cleaning-the-boots ritual. That was preferable to the slipping and sliding brought on by the rain while trekking up steep mountain trails for twenty miles.
However, the positive side of the day definitely surpassed the negative. The people I met on the way were truly kind, pleasant and warm-hearted. The scenery, when the rain subsided, was of tremendous deep gorges, valleys and fields. The mountain peeks were striking, standing up to 17,000 feet high. I just stood and experienced this natural landscape and the people who live there.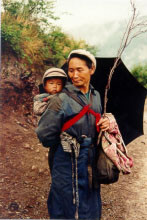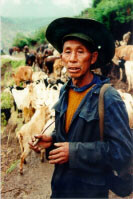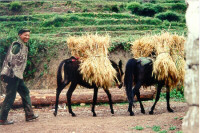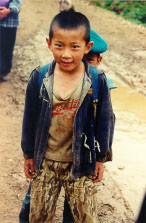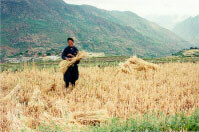 In this setting it seemed I was viewing the true people of China: The farmers and herdsmen in the small remote villages who work hard in harsh conditions with primitive tools and are still welcoming, friendly and hospitable, was the China I had envisioned.
Weary and aching from the long day, but at the same time extremely joyous, I reached Haba. There, my German friend's warning became a reality. There were no services for people just wandering through. The tiny guest house had maybe three rooms. A heavy dust layer everywhere and a surprised owner were an indication of the seldom visits from outsiders. Moreover, after my extensive day on the trail, I was famished, but there were no restaurants to be found. Even the petite supply store was closed for the day.
Having limited choices, I walked through the compact village in search of a meal. From one of the thatched roofs, smoke was flowing out. Taking it as a sign that food was cooking, I knocked on the door. A beautiful, old woman in her traditional blue overcoat and an astonished expression opened the door. Her small cottage had two rooms: a living/dining/sleeping room and a kitchen. The only visible light came through cracks in the walls and an old fuel lantern. The kitchen was also a primitive sight. There was only one big wok sitting on top of a wood fire stove made of clay.
With my limited ability to speak Chinese and even worst pantomime, I pleaded to buy some food from her. To my surprise, and beyond all expectations, this woman made sure I did not leave hungry. She arranged me a feast of noodles, eggs, dumplings, fresh flat bread, a variety of vegetable dishes and rice. To my disbelief, after all that work, she only asked for five yuan (equivalent to 75 cents). I left her twenty, thanked her kindly and went to sleep.
Morning rays of light filtered their way through a torn mesh screen, awaking me to a new day of wonder. At the outskirts of the village I asked a local farmer for directions to Shekan village. To my utter dismay, he pointed to a trail leading straight up the steep mountain, which the map showed to be standing at 17,743 feet above sea level. After a few minutes of climbing the steep trail, I caught up with an old, toothless man who was casually making his way up the mountain with a walking stick in hand. Seeing my heavy breathing and tired complexion, he encouraged me to follow his lead. Slowly, he started up the mountain, walking in zigzags. With a knowledgeable smile he beckoned me to follow suit. So, with his advise and an overcast day without rain, the climb was not too difficult.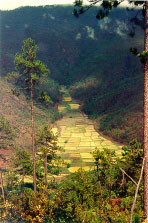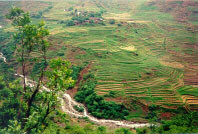 At about 11,500 feet, I reached a plateau covered by a large moraine. As it turned out, the trail crosses this wet area before dropping toward Shekan. Again, the views outweighed the difficulties. Hidden valleys buried between narrow mountain peaks revealed themselves during the climb. Small puffy clouds drifted slowly below the cultivated landscape, creating a surrealistic impression on the land. The moraine was filled with shallow pools and unique trees.
I arrived in Shekan at dusk after walking about 15 miles. The last stretch of the trek was a short one. From Shekan, I walked downhill for half of a day to reach the mighty Yangtze river, where an old barge was waiting to take passengers across. A short scramble uphill on the other side landed me back in civilization, namely the small town of Deju and a meal at the Snow Flower restaurant.From this plateau, rivulets made their way down to the valley floor, adding a glowing, white color to the array of already existing hues.
However, along the way I was fortunate to experience another pleasant surprise. At a small isolated farm, I stopped to eat a lunch that included a few crackers and ramen soup. There stood a small, wooden shack in which the farmer and his five children lived. So once again my curiosity, and the need for hot water for my soup, led me to meet a lovely family. Once more the hospitality of these rural farmers left a positive impression on me. They were delighted to invite me into their overwhelmingly humble home, put some water on the wood fire for me and let me photograph them. It was a wonderful way to end this journey.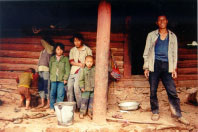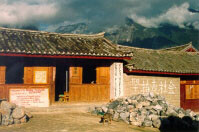 Three days in the mountains of northwest China is an experience etched in my mind and soul. It was a humbling encounter with friendly, generous and warm-hearted people who live and work in a remote and harsh environment. Throughout my travels I discovered that the best way to enjoy and discover a land and its people is to join them in their reality. Trekking through China was a hard, complicated and often dangerous endeavor. But the rewards of a spectacular mountain scenery, quaint picturesque villages and kind hospitable people made it all worthwhile.